OpenMicroServer
Priced at $599, this baby is almost flat, it is only 1.3 inches! To put things into perspective, the Macbook Air at its thickest point is .76 inches, so OpenMicroServer is a little less than two of Cupertino's latest "masterpiece" on top of each other! It has a 400 MHz AMD Alchemy processor, 2x Gigabit Ethernet, 1x 100MBit Ethernet port, 2 USB 2.0 ports, and comes preloaded with SSD/Linux but also supports Debian and NetBSD.
According to the company's website, OpenMicroServer can be used for the following:
IP network testing/monitoring
VPN
VoIP / SIS Server
Apache / MySQL Server
Industrial automation
Load Balancer
Authentication Server
Time Server
Blog Server
Wireless LAN access point
Firewall / Router
Spam Filter
Version Management Solution
Surveillance
Distribution Management
I am pretty sure that there are even more applications this beast could be used for! Just think outside the box ;)
What makes this little device great is it's ultimate placement flexibility, it could fixed on walls, radars, airships, hell if you want to you can fix it under your sink! Trust me it won't complain! Just a word of caution, ITS NOT WATERPROOF! But it is Heatproof, it can handle very extreme weather conditions, according to the website, OpenMicroServer has an aluminum heat sink to the aluminum casing, which eliminates the need for a fan. The unit also employs a power efficient Alchemy CPU and precise part placement based on thermo-fluid analysis to achieve semi-hermetic construction with a guaranteed maximum operating temperature of 50°C/122°F.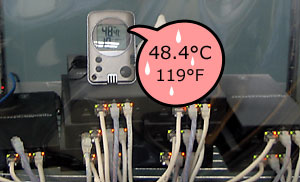 You can find out more over at Plat'Home OpenMicroServer official page.